Photo Editor Pro, values simplicity and practicality the most. Just simple and fast touches, you can create artistic high quality works without any professional skills.
This photo editor offers all the advanced tools as other best pic editing apps and amazing preset photo filters and photo effects to edit photos, enhance images. No matter you are a newbie or pro, it will be your best choice as filters editing apps among plenty of similar photo maker and presets photography apps. Apply perfect filters for pictures and fill your aesthetic needs.
FEATURES: Customized Photo Filters
 Exquisitely designed filters for pictures, presets for Instagram, make your photos stand out. Best filters for pictures and photo editor for Instagram.
Add custom exclusive photo filters and effects, such as Film, LOMO , Retro, etc.
Fine adjustment for photo filters and effects strength.
Customized Photo Effects
Exquisitely designed effects for picture, make your photos stand out. Best photo effects editor app.
Add custom exclusive photo effects.
Fine adjustment for photo effects strength.
Basic Photo Editing Tools
Adjust brightness, contrast, highlights, warmth, shadows, sharpness, exposure etc.
Selective options for image enhancement, best picture editor and filters for pictures app.
Control the strength of all the photo properties.
User-friendly pic editing apps for Windows. Ultimate darkroom photo editor pro. Photo filters and effects app.
Rotate and Crop Photo
Crop photo freely (in multi aspect ratios).
Crop photo to adapt for social media ratios. Best presets app for Instagram.
Rotate photo to a perfect angle, horizontal, vertical etc.
Picture editor with ultra-fast rotate and crop tools.
Add text to photos
Add text on photo, with lots of fonts for selecting.
Add text on photo, and apply different styles in single text.
Best pic editor and effects with text.
With all the powerful and distinctive photo maker features above, our Photo Editor Pro helps you become an expert in photo editing (photo filters and effects adjustment), and discover endless fun during the time.
Step 1: Lunch Photo Editor Pro – Presets & Photo Lab in your device and click on Camera or Gallery button to edit your photo.
Camera: To capture your real-time photo and edit with amazing and cool tools.
Gallery: To Choose Your Photo from your gallery, you can choose any image from your device storage.
Step 2: After choose/capture your photo its time to start editing on your photo, Find Crop Button from bottom tool list,
Click on crop button there is resize or rotate function you can see, click on resize button to select your photo manually or you can also choose aspect ratio of social media.
If You wish to rotate your photo click on rotate button and flip and rotate your photo. 
After that click on check Yes button to save your changes.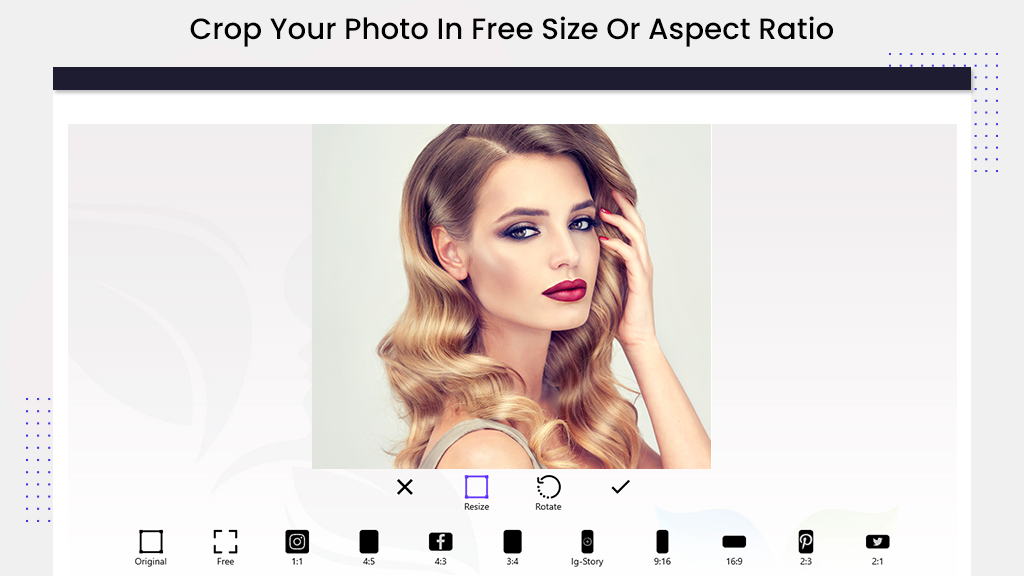 Step 3: Now click on Adjust button to adjust photo lighting effect; Contrast, sharpen, temperature, vibrance, saturation, and vignette.
Click on any tool and adjust by scroll left and right.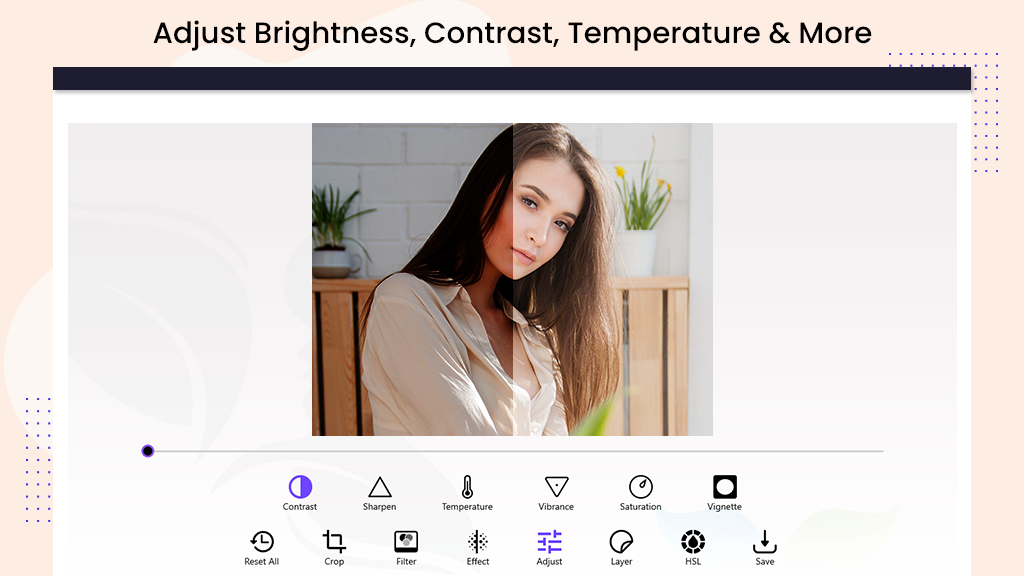 Step 4: If you wish to save your image now, click on save button and save your creation in your gallery, You can share your photo with social media direct using this application.