The beautiful moments captured through advanced technology are appreciated by everybody at the time of reminiscing them. Now, with our easy-to-use application of video maker, walk down the memory lane with all the videos you can prepare through it. 
Merging the video clips into one video is also an added feature of our application. The professional attributes of the video cutter and video joiner also help in rotating the video, cropping it, compressing, and combining the videos without losing quality. Trim the video length as per your preference. Edit the videos to beautify them and add music to them to enhance them. You have a feature to slice and split the video into two separate video clips according to your need. Moreover, it helps in extracting mp3 from any video file you have with you. It also facilitates making a slideshow of the entire collection of photos that you have that too with multiple transition effects like Wipe, directional blur, hue rotation, and more. What's more, is that unlike any other application it doesn't add a watermark to your creation.
Features:
This amazing application has the most useful features that come in handy for any layman or a professional. These are also unique relative to any other pro-YouTube video editor, or Tik Tok editor, slideshow maker app. It has even got all the astonishing filters you might think of some of which include moonlight, blues, and more. Apply these rich and trendy filters to your videos. Various canvas sizes pertaining to different social media platforms are also available here and you have the option to form them. Some of these sizes include 16:9. 1:1, 9:16 (TikTok), 4:5 (Instagram) and more. Multiple overlays are included in the interface for you to choose from and apply them accordingly. 
Step 1: Launch the application on your device and click on the slideshow option to create a slideshow of the photos or videos. Once it opens up, choose a number of photos or videos that you wish to make a slideshow of.
Step 2: Moving on to the effects option on the toolbar, it contains a lot of beautifying filters that facilitate you to improve your photos or videos aesthetically.
Select from the varied options from the desired format and resolution which are inbuilt in the application.
You have to start afresh to create a slideshow. The slideshow option is given in the main menu, you have to select from the pictures on your computer and create a slideshow. 
You have to start afresh to create a slideshow. The slideshow option is given in the main menu, you have to select from the pictures on your computer and create a slideshow. 
You can add effects, music, sticker, theme, text and transition to your slideshow and fix the timing of their appearance in the slideshow.
The Duration/Record option helps you to add more pictures to your slide as well as adjust the time duration of each slide.
Click on effects button and choose filter effect to apply on slideshow video.
Simply click on any filter effect and see the changes on your slideshow video
Some of the filters available are as follows: Alone, Fog, Pink, Black and White Lomo, Fresh, Blues, Beauty, Sepia, Foundation, Magicpen, Mirror, Mono Color, Moonlight. Click on any filter effect above to apply on your slideshow.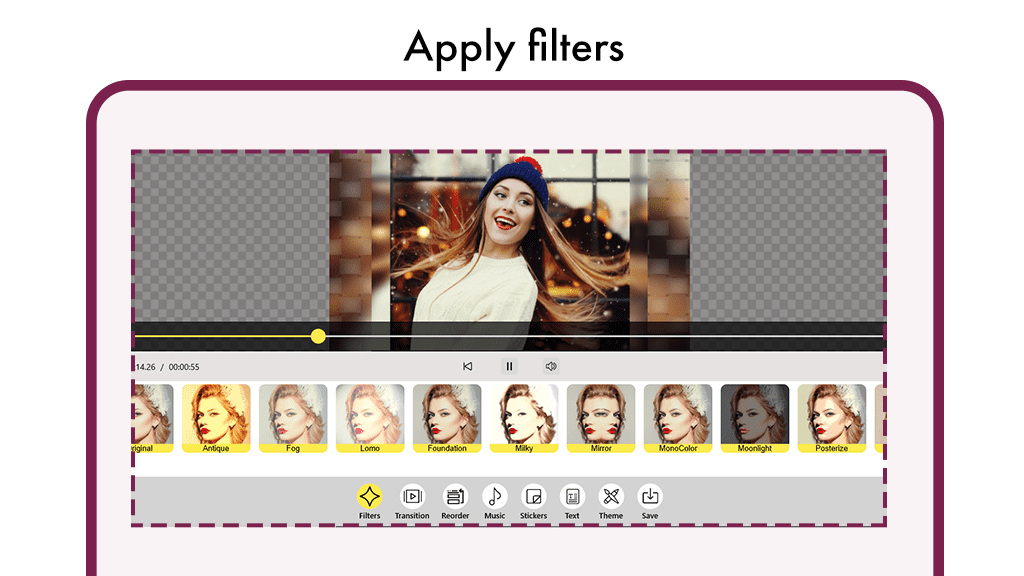 Step 3: Slideshow Transition: 
Click on Transition button to apply Transition effects on your slideshow video.
Transition : A transition is the glue that holds your slideshow together. Without transitions, your video might end up being as thrilling as a burnt toast. 
Choose Transition and click on next tool.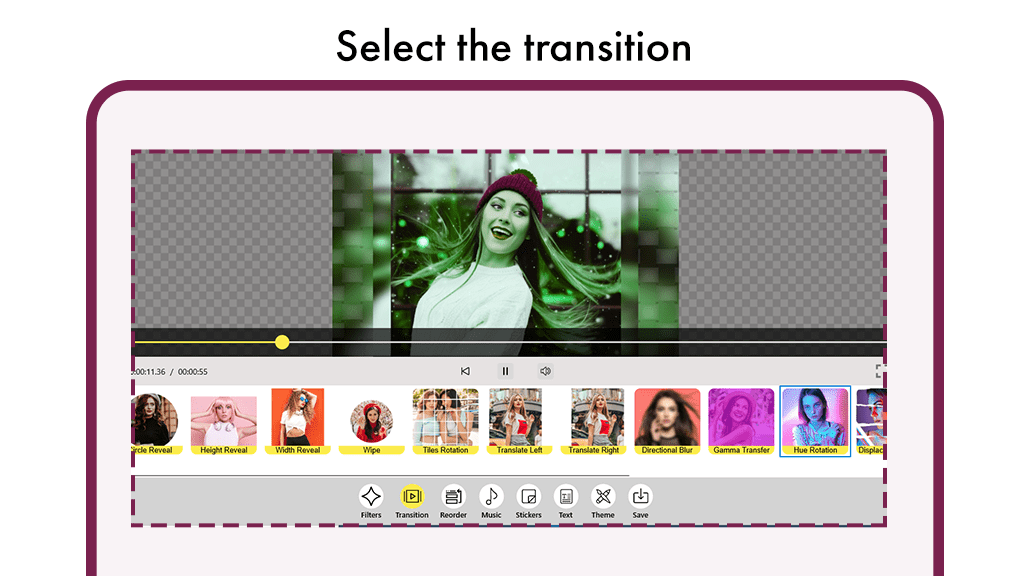 Step 4: Record or arrange slideshow photos: 
Click on Duration/Record button to adjust slideshow video Time duration and arrange photos to slide.
Here you can add or remove slideshow photo or arrange position of slides.
Slideshow Duration: Drag left and right to set the slideshow time duration.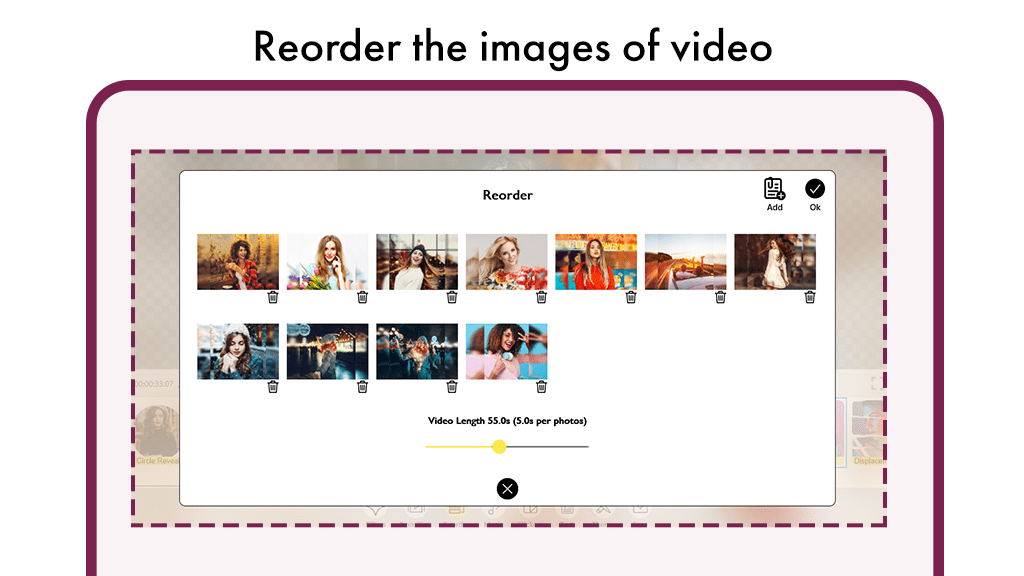 Step 5: Add Music to slideshow video:
Click on Music button to add music to slideshow video.
Without music slideshow video is incomplete, using movie creator slideshow feature you can make a perfect slideshow video.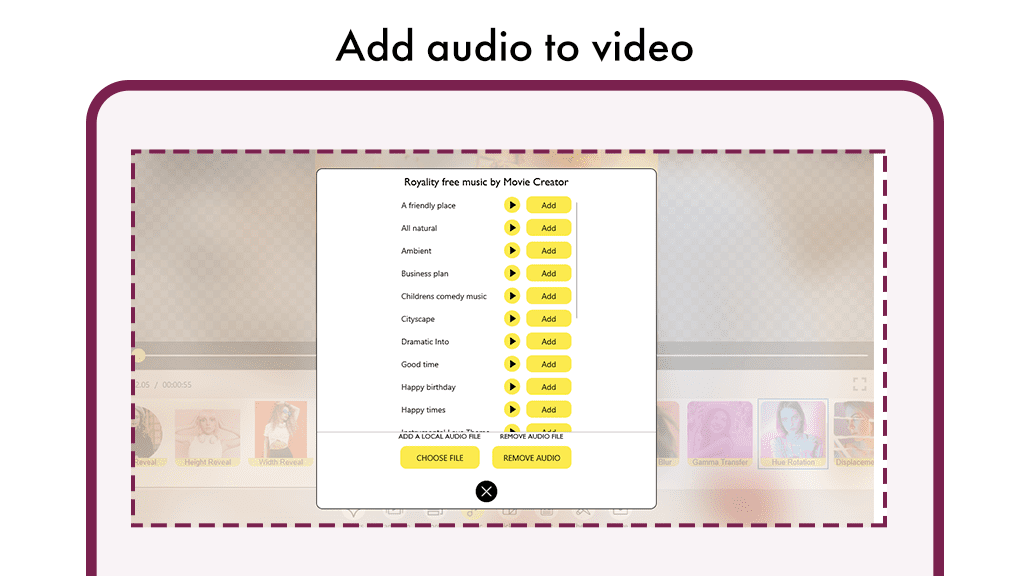 Step 6: Click on Stickers button to add amazing and cool stickers on video.
Choose stickers button to add stickers on your photo, after that you can see lot's of funny and cool stickers on your screen click on stickers that you liked and want to add.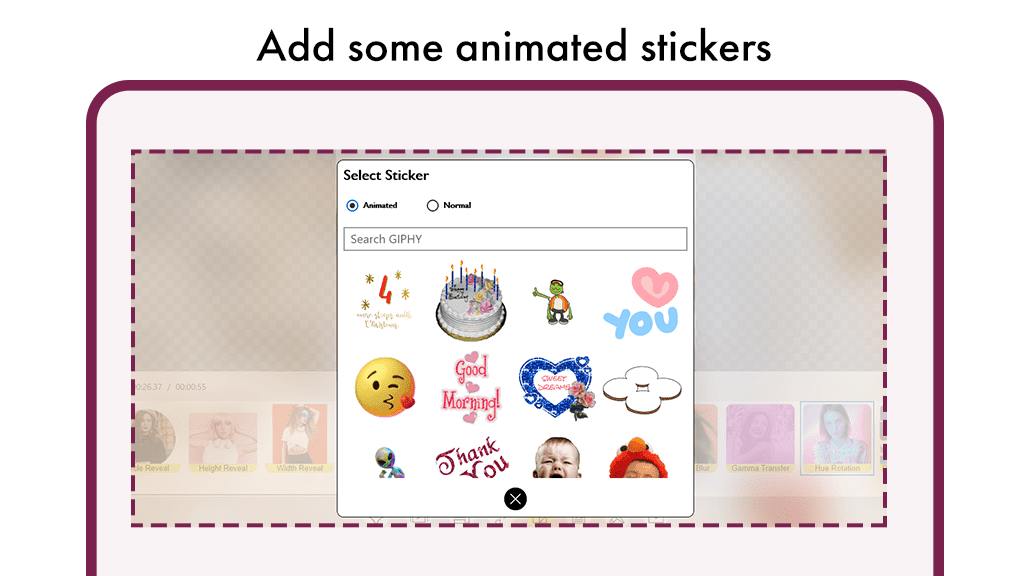 Step 7: While you are on the editing screen, you'll see our add text feature.
It helps you put highlights, texts, captions, logos on your video. This is a great feature when you want to show some sponsor related text in the middle of your video. Or highlight something throughout. 
To do so, click on the TEXT option and Choose from the different fonts you have in front of you.
Choose the one whichever you feel fits your style and background and would add value to your video.
After you have selected your text style, put your content into a box that appears.
Click on accept to save the content and change the color from the shades provided below.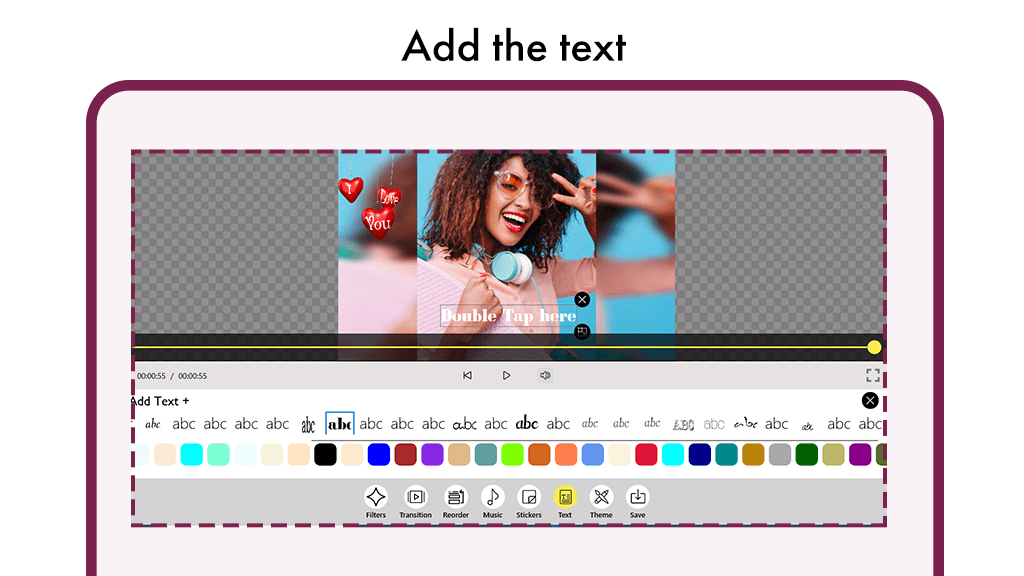 Step 8: Apply Video Theme effects 
There is a new feature to apply live video theme effects.
Apply Amazing theme effects on slideshow video and make amazing effects slideshow.
Click on theme button and choose theme effect there is lot's of amazing theme effects.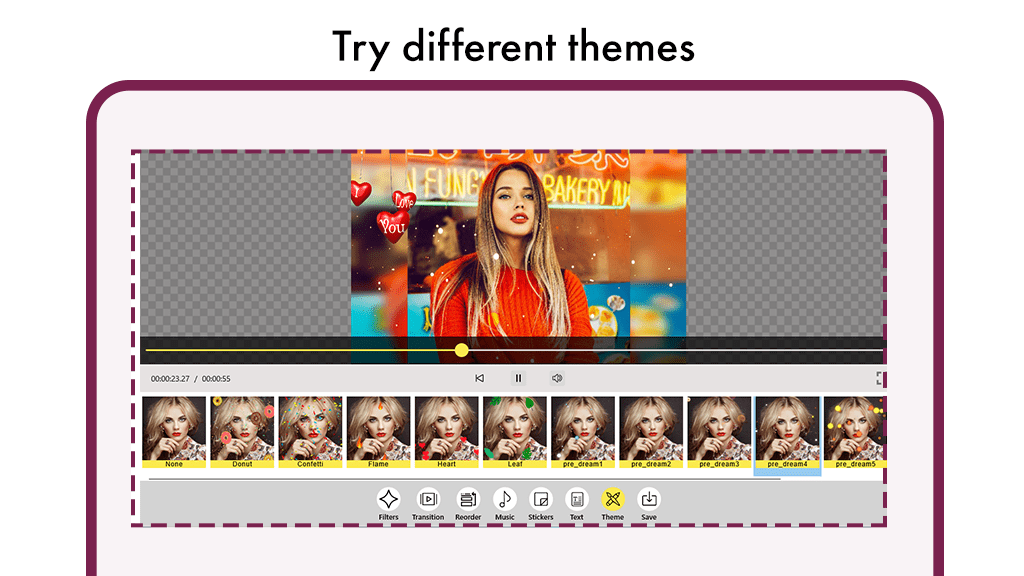 Step 9: After work done click on save button to save your edit video in your gallery.
Click on open folder button to view file location.
Click on sharing button to share your editing.
Click on More apps button to download our more amazing apps.