The beautiful moments captured through advanced technology are appreciated by everybody at the time of reminiscing them. Now, with our easy-to-use application of video maker, walk down the memory lane with all the videos you can prepare through it. 
Merging the video clips into one video is also an added feature of our application. The professional attributes of the video cutter and video joiner also help in rotating the video, cropping it, compressing, and combining the videos without losing quality. Trim the video length as per your preference. Edit the videos to beautify them and add music to them to enhance them. You have a feature to slice and split the video into two separate video clips according to your need. Moreover, it helps in extracting mp3 from any video file you have with you. It also facilitates making a slideshow of the entire collection of photos that you have that too with multiple transition effects like Wipe, directional blur, hue rotation, and more. What's more, is that unlike any other application it doesn't add a watermark to your creation.
Features:
This amazing application has the most useful features that come in handy for any layman or a professional. These are also unique relative to any other pro-YouTube video editor, or Tik Tok editor, slideshow maker app. It has even got all the astonishing filters you might think of some of which include moonlight, blues, and more. Apply these rich and trendy filters to your videos. Various canvas sizes pertaining to different social media platforms are also available here and you have the option to form them. Some of these sizes include 16:9. 1:1, 9:16 (TikTok), 4:5 (Instagram) and more. Multiple overlays are included in the interface for you to choose from and apply them accordingly. 
Step 1: As and when the application is downloaded click on it to launch "Video Maker –    Video show" on your PC or Laptop.

Once the app opens up, the second option you see in the first row is "Square Video". Click on it to make a square video of your own.
Step 2: After select video there is lot's of social media ratio to select.
Click on the Canvas button on the Video Editing screen and you'll be directed to a separate window that has multiple options. 

Once you are there on the Canvas screen, you'll see 14 options with different screen ratios. 

These different ratios are designed to fulfill all your social media needs starting from 16:9, which are mostly used for YouTube and Facebook posts. 

Next, you'll see the ratio specially designed for Instagram posts. With a ratio of 1:1, these are the best-fitted screen size for your IGTV and Posts.

Next is a specially designed ratio 9:16. This is vastly used by the youth these days, these appear on Instagram Stories, Facebook stories, Tik-tok and other famous social media apps. 

There's another Ratio that can fit your Instagram/Facebook feed, that is 4:5. You can easily create quick posts and long IGTV videos with these and increase your visibility on the social media handles.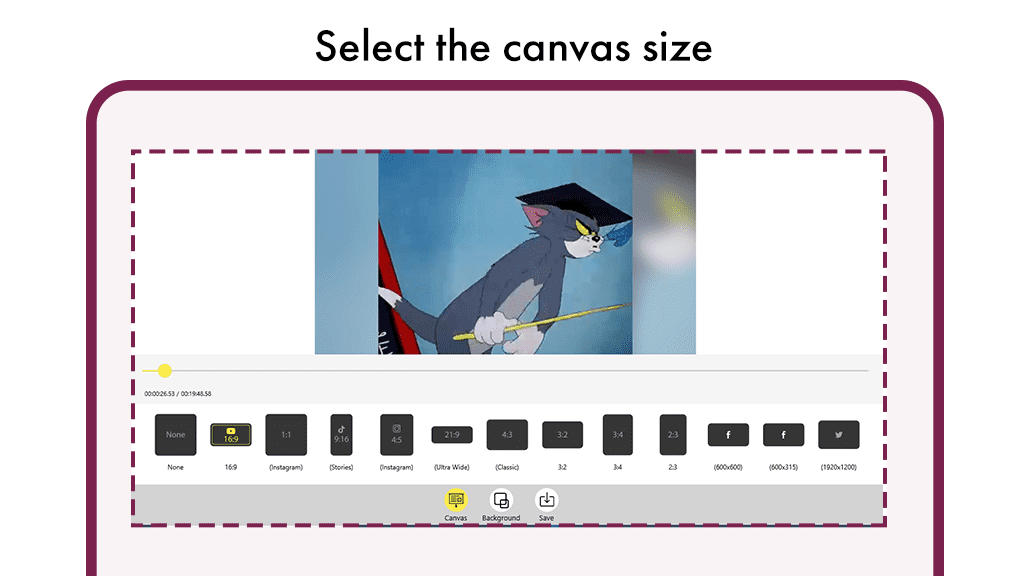 Step 3: Depending on the situation, you can choose any of these on the screen and the results will be shown on the editing page.
Below that, You'll have an option to add Blur Background to your videos.
You get 17 different styles of blur designs that you can master by applying them to the videos you are editing.
Along with Blur Background, you have another option that helps you to Choose a colored background to your videos.
Click on the Original color and you'll see a pop-out circular color box with a pointer to choose.
Stop the dial on your favourite color and it'l be put on your video background automatically.
Once you are done, click on the X button on the top right corner to save these changes and move further with your editing