The beautiful moments captured through advanced technology are appreciated by everybody at the time of reminiscing them. Now, with our easy-to-use application of video maker, walk down the memory lane with all the videos you can prepare through it. 
Merging the video clips into one video is also an added feature of our application. The professional attributes of the video cutter and video joiner also help in rotating the video, cropping it, compressing, and combining the videos without losing quality. Trim the video length as per your preference. Edit the videos to beautify them and add music to them to enhance them. You have a feature to slice and split the video into two separate video clips according to your need. Moreover, it helps in extracting mp3 from any video file you have with you. It also facilitates making a slideshow of the entire collection of photos that you have that too with multiple transition effects like Wipe, directional blur, hue rotation, and more. What's more, is that unlike any other application it doesn't add a watermark to your creation.
Features:
This amazing application has the most useful features that come in handy for any layman or a professional. These are also unique relative to any other pro-YouTube video editor, or Tik Tok editor, slideshow maker app. It has even got all the astonishing filters you might think of some of which include moonlight, blues, and more. Apply these rich and trendy filters to your videos. Various canvas sizes pertaining to different social media platforms are also available here and you have the option to form them. Some of these sizes include 16:9. 1:1, 9:16 (TikTok), 4:5 (Instagram) and more. Multiple overlays are included in the interface for you to choose from and apply them accordingly. 
launch Video Maker – Videoshow" on your PC or Laptop.
As and when the application is downloaded click on it to launch "Video Maker –    Video show" on your PC or Laptop.

Once the app opens up, the first option you see in the first row is "Video Editor". Click on it to start editing.
Step 2: Now, you will be directed to your gallery to choose a video from. Select the video you would like to edit.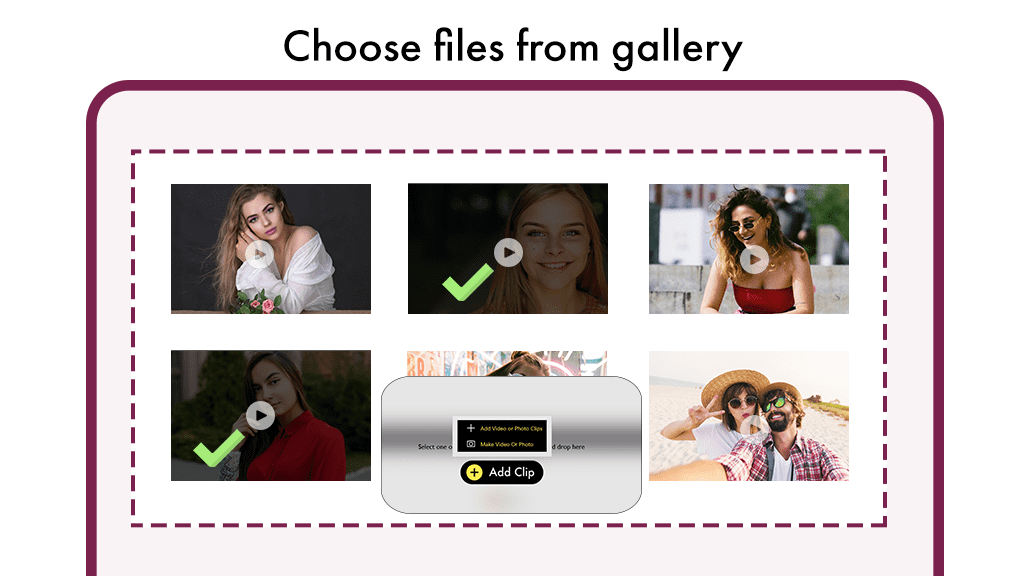 Step 3: Here you can choose lot's of amazing and professional Tools to edit your video.
There is lot's of video editing tools : Change video canvas size, video editing- trim, split and copy, and text, filters, stickers, music and more.
And easy to use tools no any skill required to edit your video.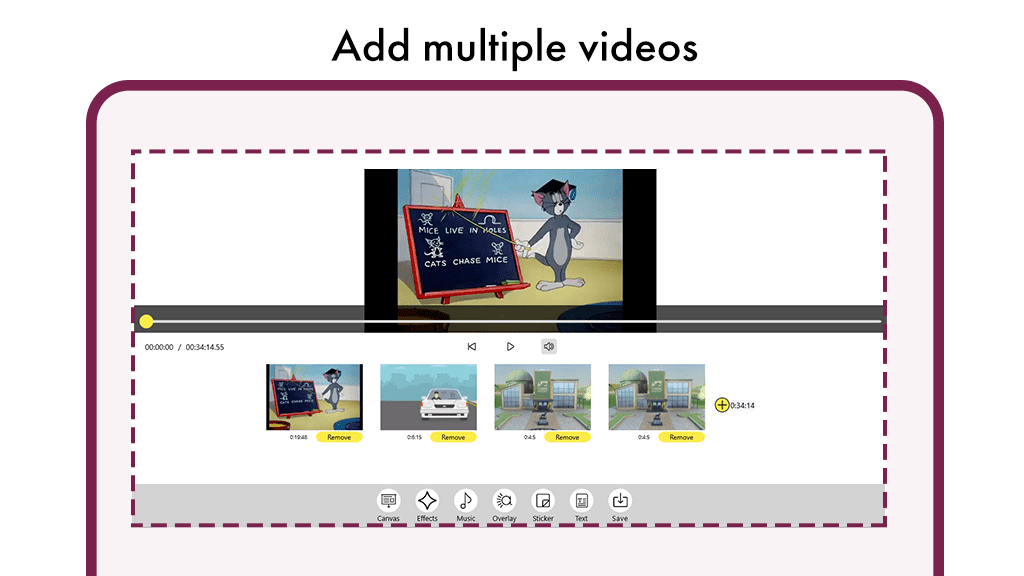 Step 4: Select video canvas size
Click on the Canvas feature from the Video Editing screen and a separate window with diverse options pop up on the screen. 
14 different options of screen ratios are available on your screen. Choose from amongst them. 
If you wish to post IGTV or upload something on Instagram, a screen ratio of 1:1 is available for the same.
9:16 aspect ratio is available for youth to post on stories of various social media platforms. 
Another ratio that will work for your Instagram/Facebook feed is 4:5. With them, you can simply generate brief posts and long IGTV videos, increasing your visibility on social media.
There are many other sizes available for different platforms and purposes which are as follows:
Ultra-Wide – 21:9 
Classic – 4:3
3:2
3:4
2:3
(1080X1080)
(600X600)
(600X315)
(1920X1200)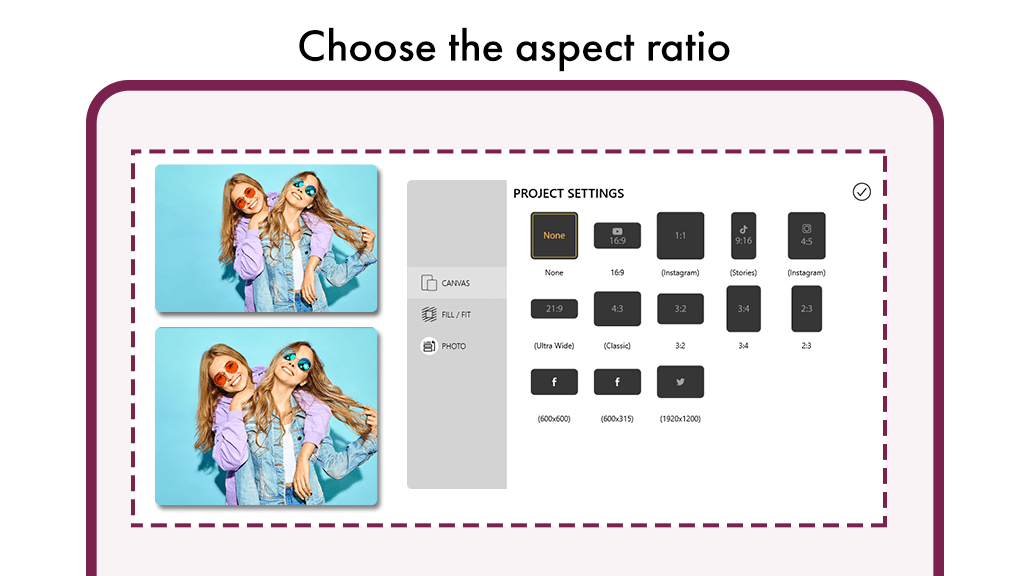 Step 5: Moving on after selecting the size, another option of Fill/Fit is presented on the Same screen.
Below that, an option to insert a blurred background to your videos is given. This feature gives 17 different styles.
A colored background can also be used in addition to blurred background.
A pop-out circular color box with a pointer to choose from a palette of colors will show and you can stop the dial on the color that you want as a background.
Save these changes and move further with your editing by clicking on the X button.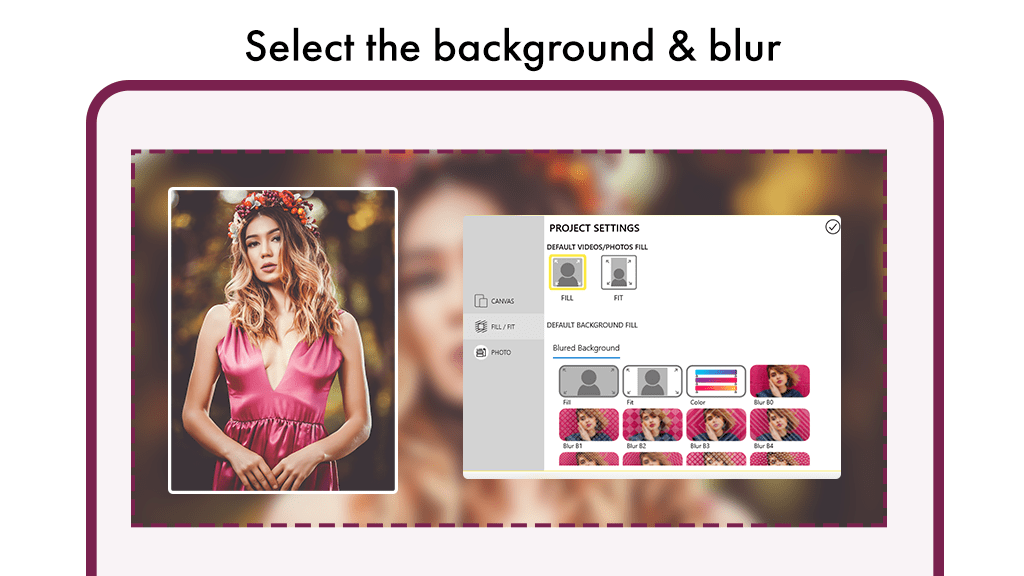 Step 6: Moving on to the effects option on the toolbar, it contains a lot of beautifying filters that facilitate you to improve your photos or videos aesthetically.
Some of the filters available are as follows: Alone, Fog, Pink, Black and White Lomo, Fresh, Blues, Beauty, Sepia, Foundation, Magic Pen, Mirror, Mono Color, Moonlight. Click on any filter effect above to apply to your video.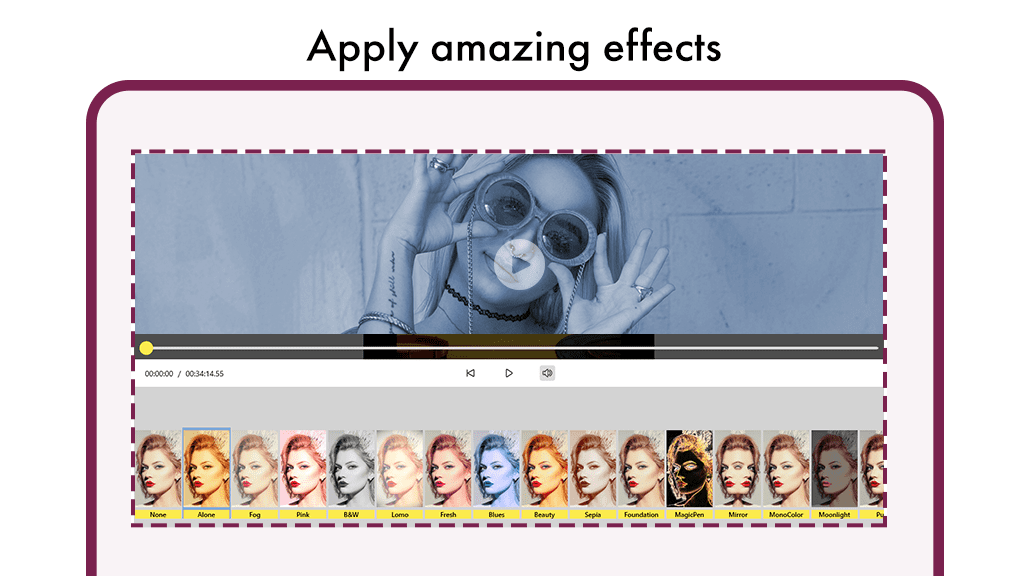 Step 7: Selecting the Music option gives you a chance to add background music to your video so as to make it serene. Click on the "add local file" to add a music file from your device.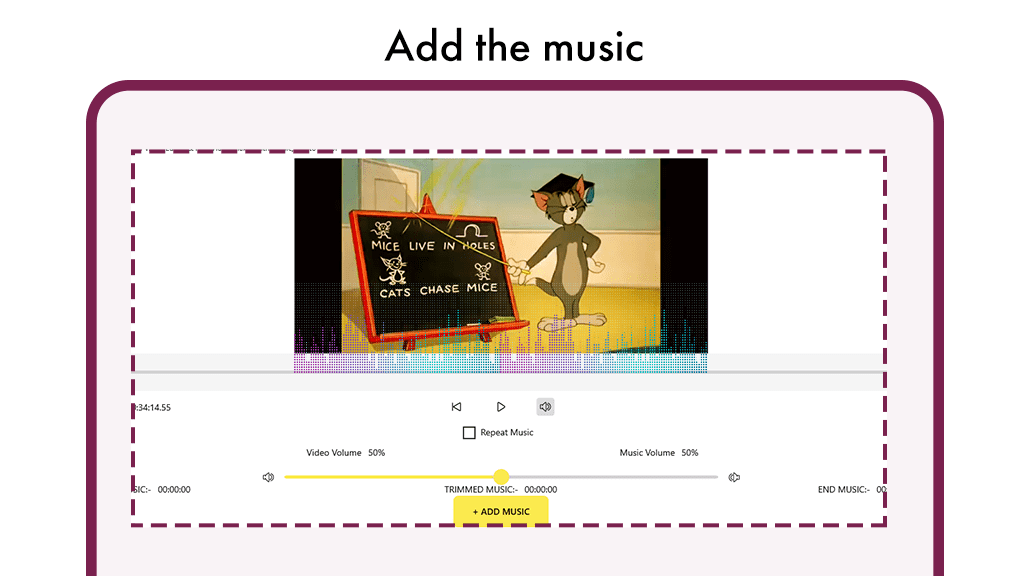 Step 8: Click on the overlay button to apply more effects to the video. There are lots of amazing overlay effects on your video that can attract more friends and followers to your video.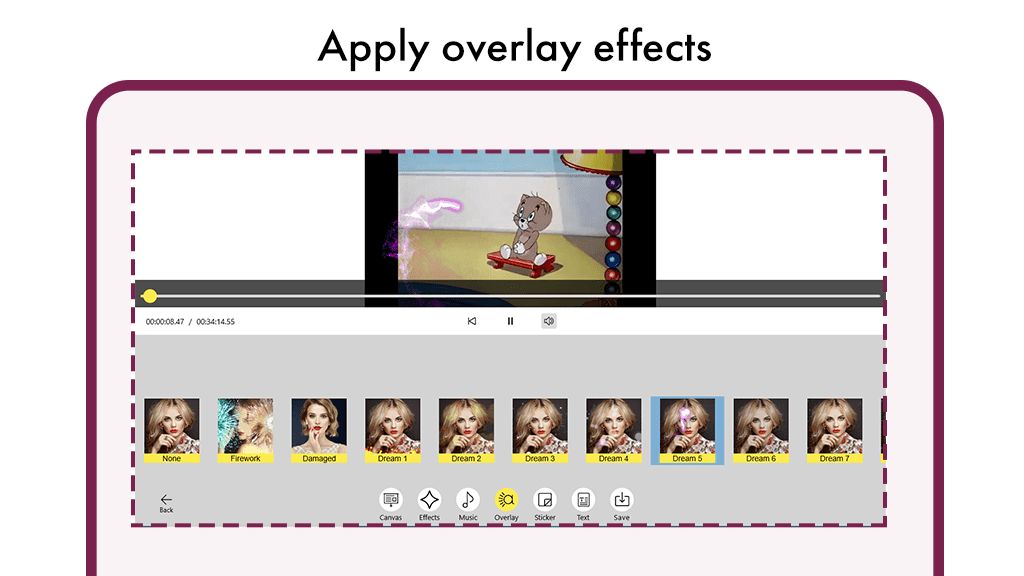 Step 9: Click on Stickers button to add amazing and cool stickers on video.
Stickers button lets you add various emoticons in different sizes to the video that openly expresses the emotion behind the video. After that adjust your stickers' position and size.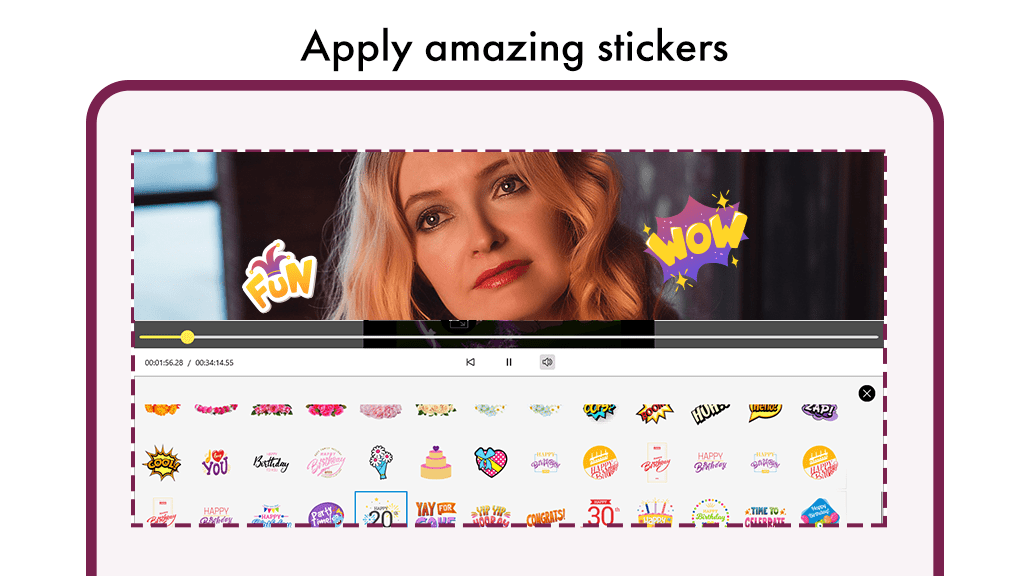 Step 10: The application even provides you the option to set the timeline of the stickers you want in the video. 
Adjust the slider from both ends to set the duration of the sticker to be presented.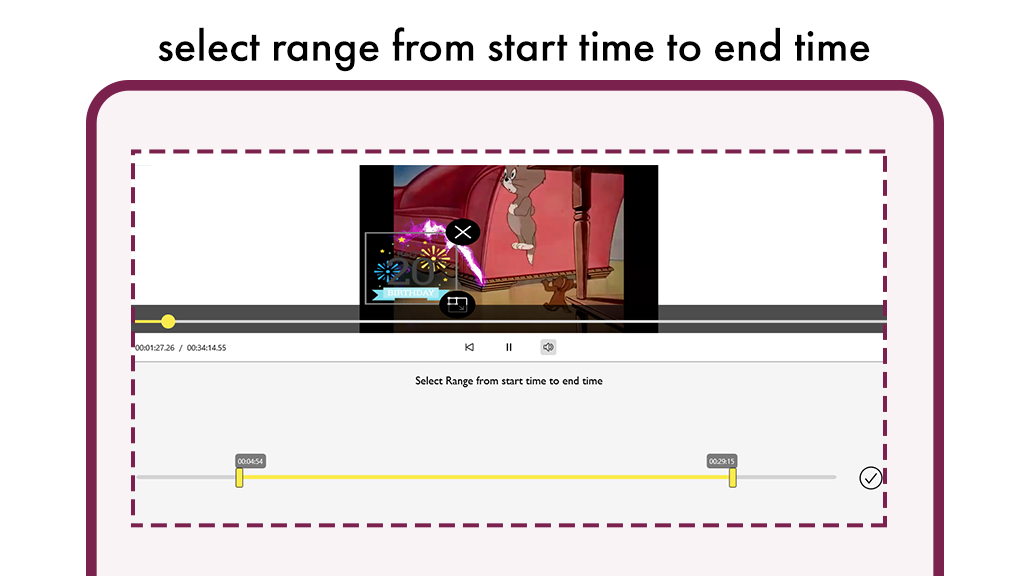 Step 11: After work done click on save button to save your edit video in your gallery.
Click on open folder button to view file location.
Click on sharing button to share your editing.
Click on More apps button to download our more amazing apps.