Birthday Video Maker – Birthday Movie Maker with Songs and Name
Happy Birthday Video Maker can help you create happy birthday videos and slideshows from images and music. Easily create video story and share with your friends and family.
Birthday Video Maker with song lets you easily create videos with your own photos. Select birthday music track, add birthday stickers, add frames to slideshow and even add text also.
It gives nice music background to wish Happy birthday in a different way. By Happy birthday song you can wish happy birthday to your friends & family and make their birthday so much special.
Multiple canvas size available like 16:9, 9:16, 3:4 and more like for Twitter, Youtube, Instagram Stories, facebook and more.
Save video or share via Facebook, twitter, Whats App, Instagram and many more social media apps…
How to Easily Create Videos:
Select photos from your gallery
Add birthday music track
Apply any of the themes to your slideshow or video
Add stickers, frames, or even text
Create Birthday video
Save videos instantly
Step 1: Lunch Birthday Video Maker – Birthday Movie Maker with Songs and Name application in your device to create your birthday video.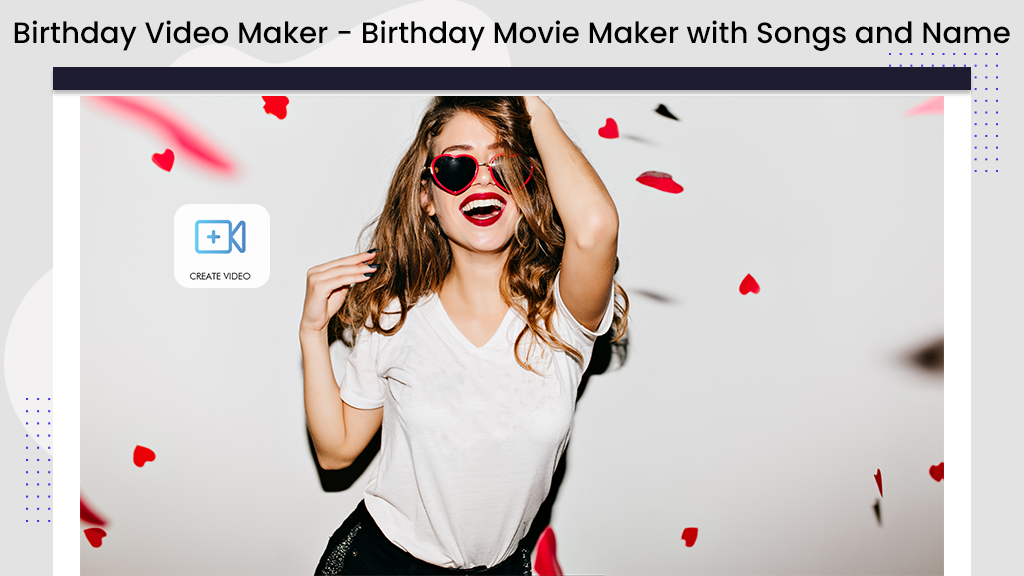 Step 2: Click on Create video button it will show below screen so lets click on add photo button and choose your photos from your gallery. 
Click on Next button to add music.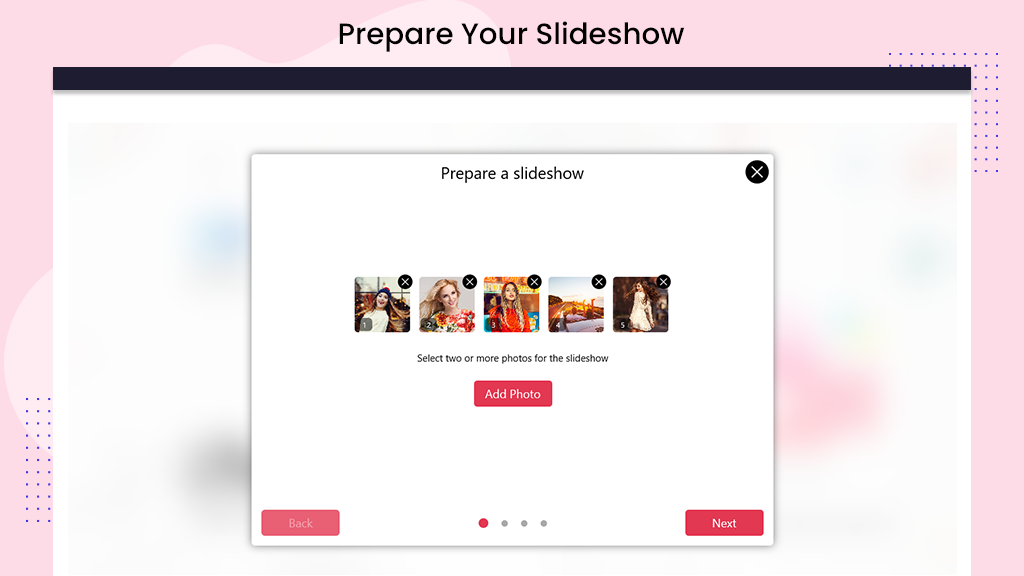 Step 3: After choose Your photos click on next and after that click on add music button and choose your music, there are lots of birthday song to add on your slideshow video.
Step 4: Now click on next button and choose transition effect for your slideshow, there are lots of transition to make attractive slideshow.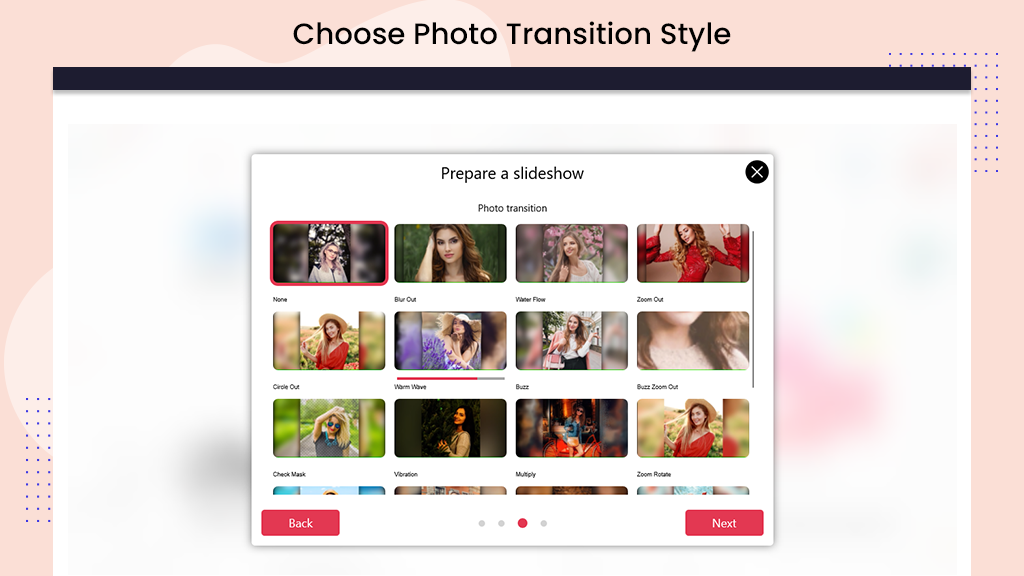 Step 5: Click on Next button and choose your slideshow video aspect ratio and time duration of your slideshow, here all your social media aspect ratio so lets choose canvas size.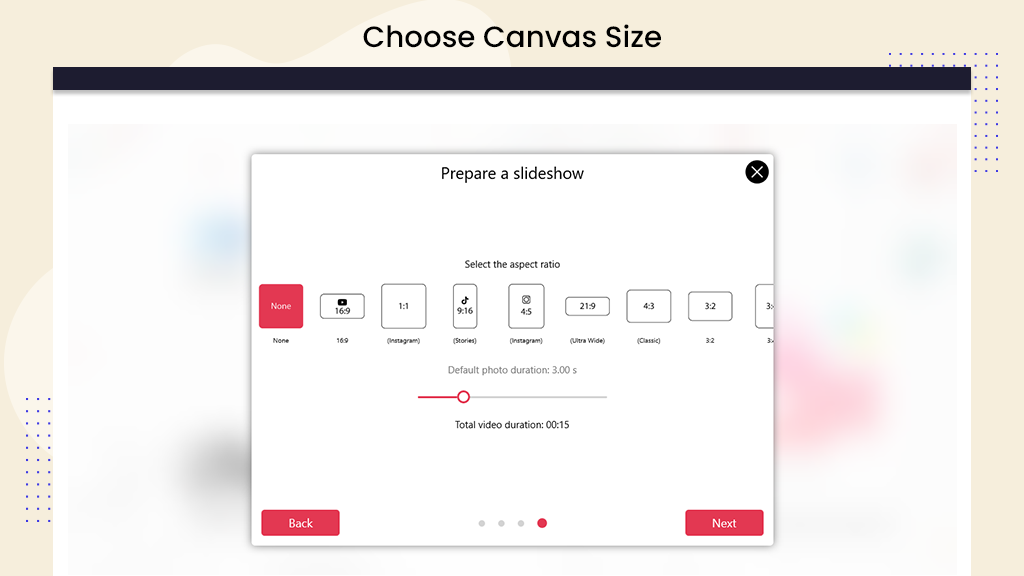 Step 6: After that you have done click on next button now you can save your slideshow video, if there is something more you want to edit in your birthday slideshow video you can make it before saving.
Arrange Your slideshow photos according to you.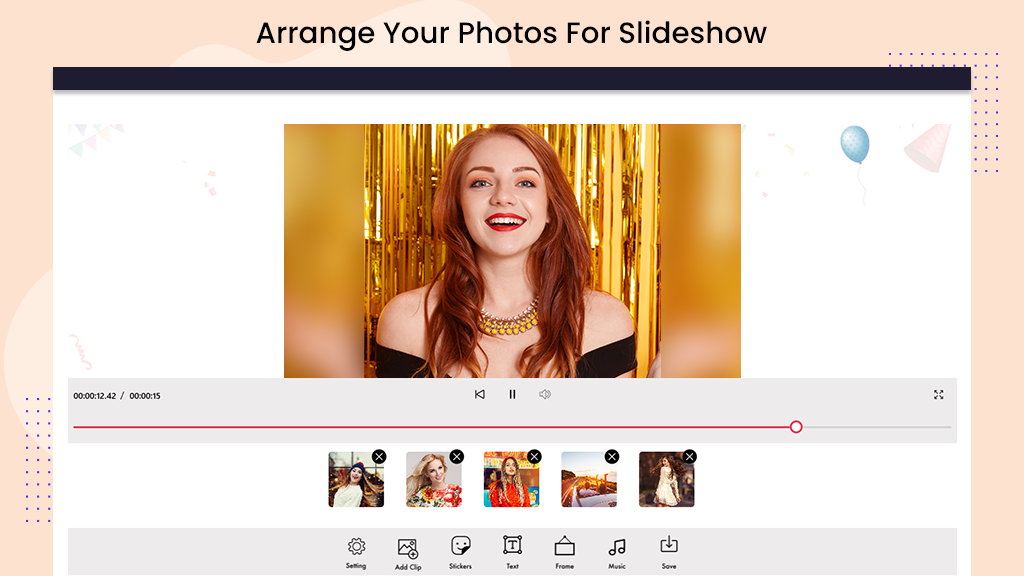 Step 7: Click on Setting button and here you can set canvas ratio, fit/fill or choose background, transition and photo time duration.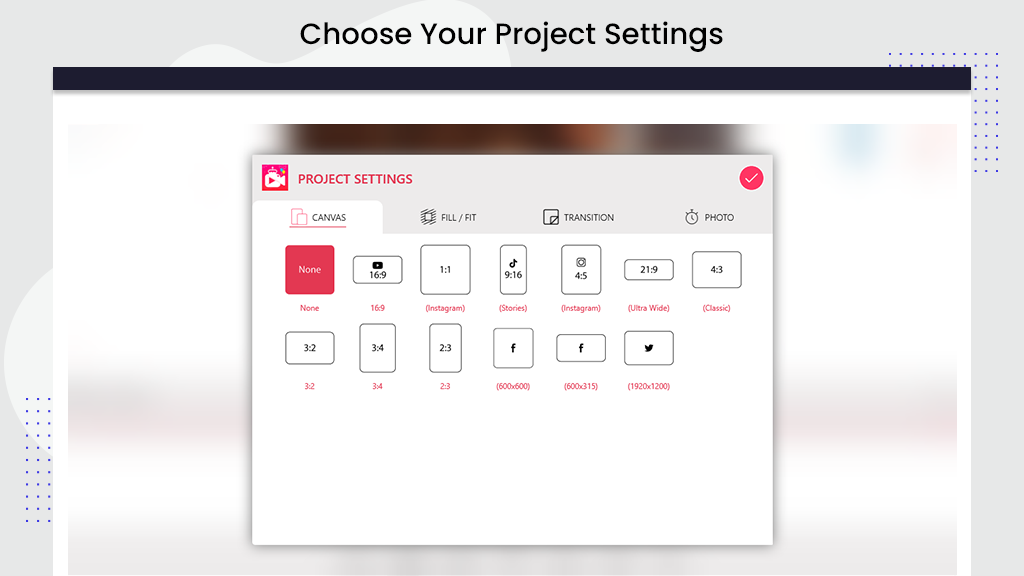 Step 8: Click on add clip button and choose more photos if you wish.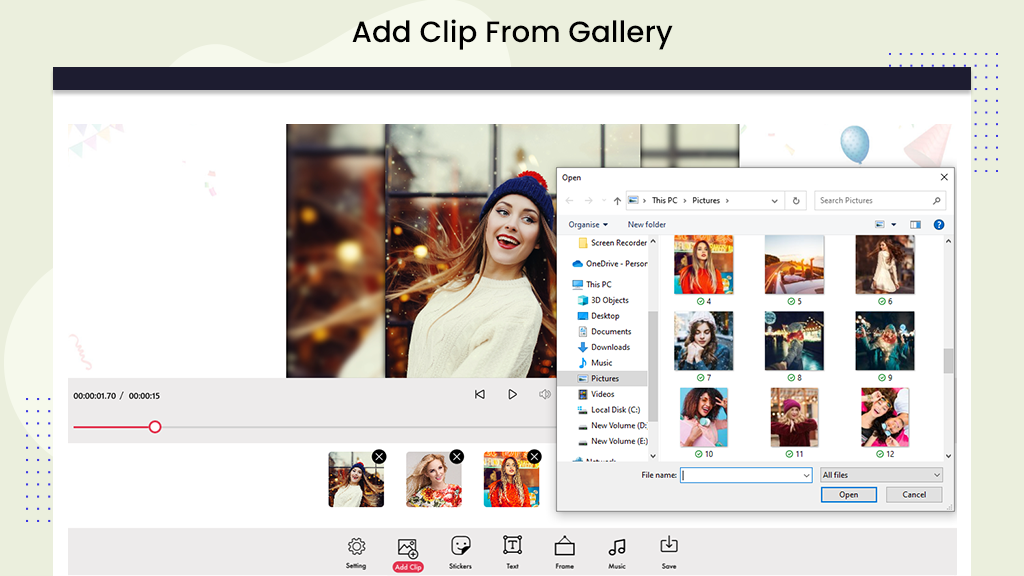 Step 9: Click on stickers button to add birthday stickers on your slideshow video, after select your stickers set the position of your stickers.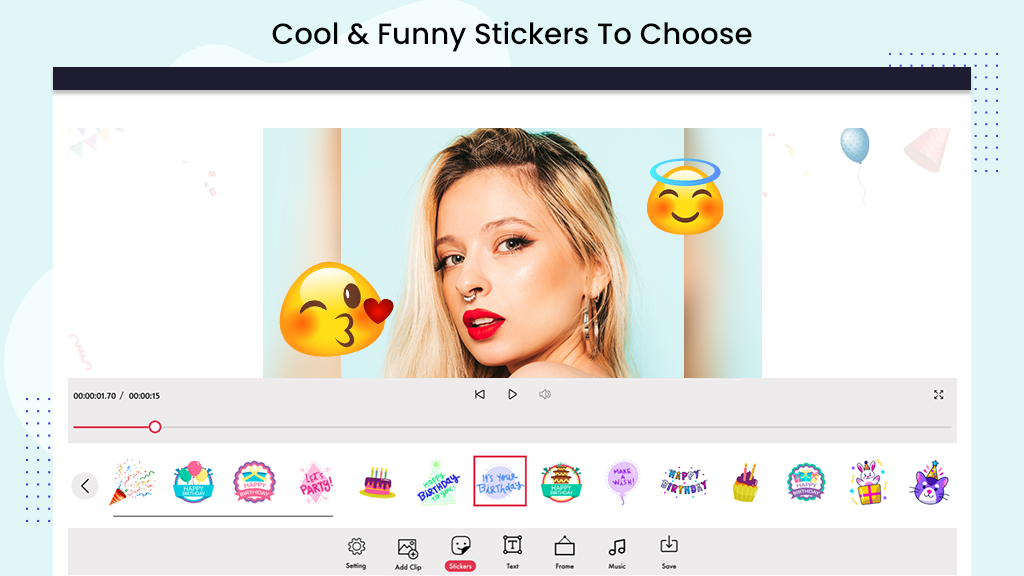 Step 10: Now You can add text on slideshow video click on text button and write text in text area and click on yes button and adjust your text on video.
Here now click on text color button and choose your text color.
click on background button and choose text background color.
To enable the shadow on text click on shadow button and apply text shadow.
click on opacity button and apply opacity of text.
click on alignment button and set the text alignment.
 Click on Text Style button and choose amazing text style.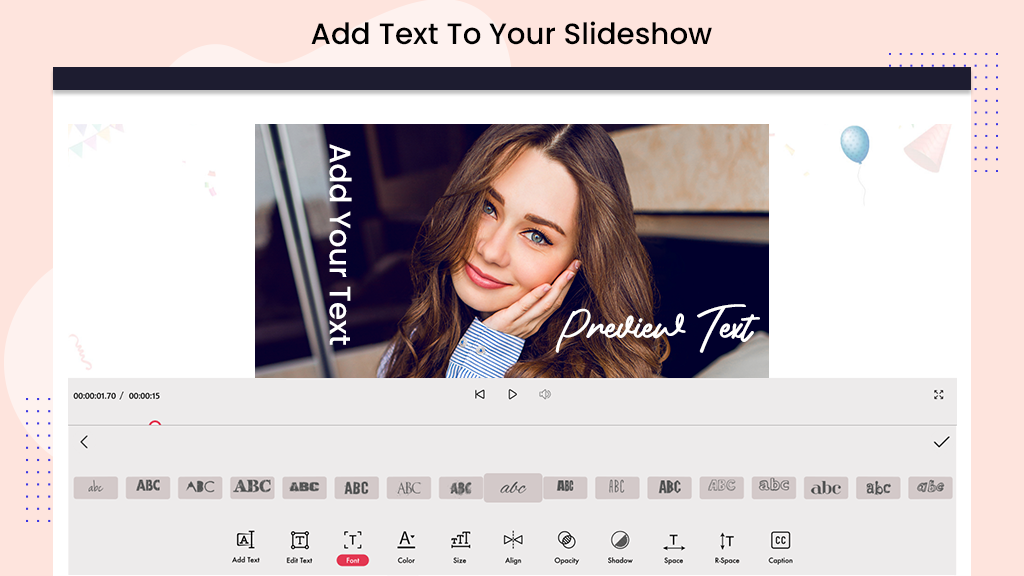 Step 11: Click on Frame button and choose birthday frame to add on slideshow video, birthday frame make an amazing look of your slideshow video.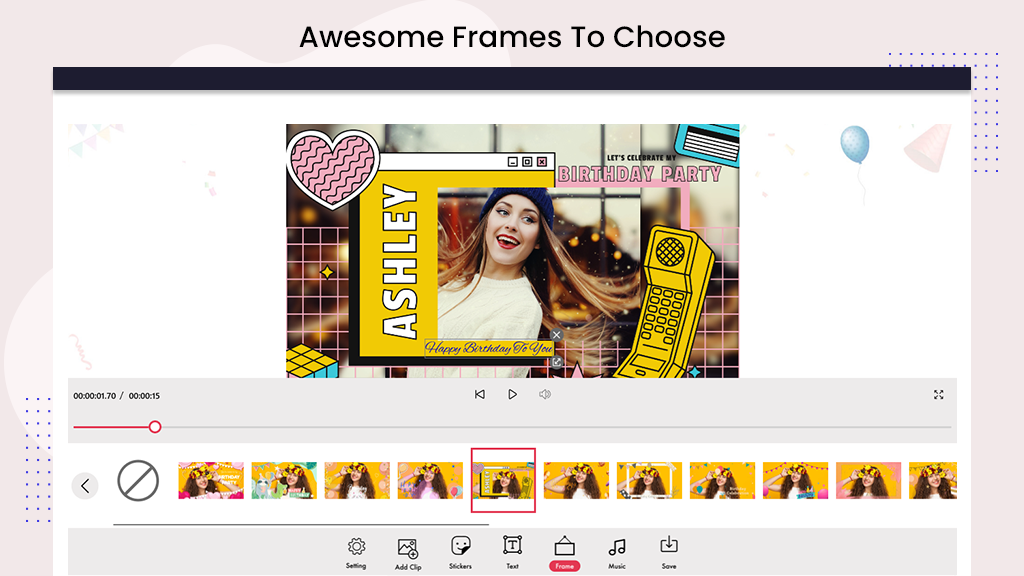 Step 12: If want to change music of slideshow video click on music button and choose  new music, or you can choose music from your local storage.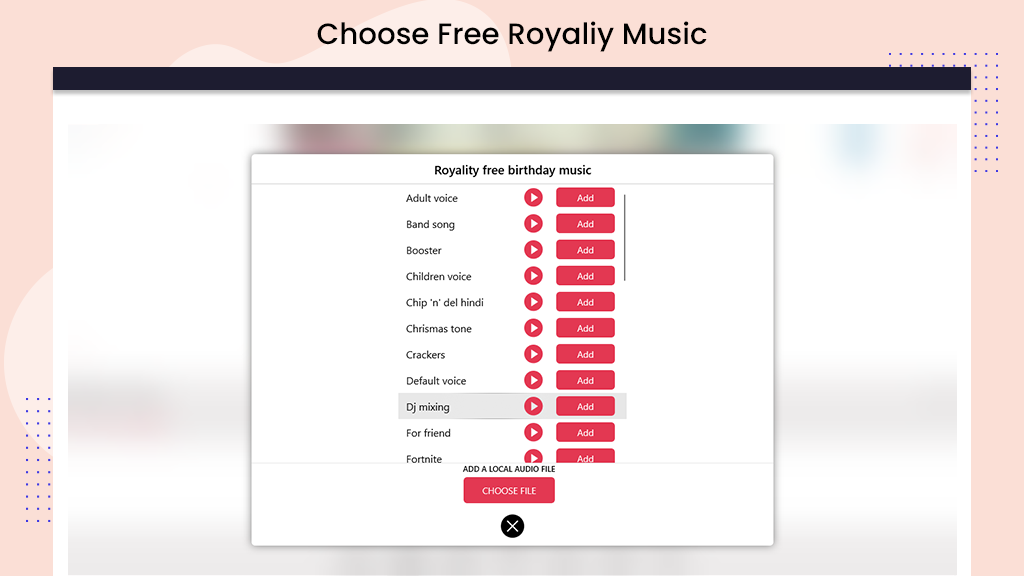 Step 13: After you have done all editing click on save button to save your slideshow video in your device storage.