Resize photo size in a fast and easy way to resize your photos.
The easy-to-use image resizer app helps you quickly downsize photo size or resize photo resolution. It can be used for passport size photo resize, visa photo resize, text messages, e-mails, Instagram, Facebook, web forms, etc to adjust photo size.
One of the basic requirements for a document application is a correct size of a passport photo. Check what id photo size is needed for your document so that your application is guaranteed to be accepted.
You can find here detailed list of passport, visa and ID photos for each country for exact information and size of a particular photo.
The most commonly used passport photo dimensions in different countries are:
 USA, India: 2×2 inches or 600×600 pixels (at 300 DPI)
UK, Europe, Australia, Singapore, Nigeria, Russia: 35×45 mm or 827×1063 pixels (at 600 DPI) or 413×531 pixels (at 300 DPI)
Canada: 5×7 cm for passport and Canada visa is 35×45 mm (827×1063 pixels) like photos in Europe
China: 354×472 – 420×560 pixels for online application and 33×48 mm for offline application
Malaysia: 35×50 mm or 827×1181 (at 600 DPI) e-visa, passport
UAE, Saudi Arabia, Oman, Kuwait, Bahrain: 4×6 cm, note many of these counties need a blue or grey background, so you need to select a specific country first from the list.
If you want to resize photos quickly, Photo & Picture Resizer is a perfect choice. Photo resizer allows you to easily reduce image size without losing quality.
This image resizer maintains the picture aspect ratio by providing a resolution list based on camera resolution. Photo resizer helps you resize photos before posting them on Instagram, Facebook, Twitter, Pinterest, Reddit, Tumblr, Google+, KakaoTalk, etc.
When you send the e-mail with the attached pictures, you will often find that the e-mail exceeds the message size limit. For example, if your email account allows you to send messages up to 5 megabytes (MB) and you include just two pictures in the attachment (today's pictures taken by a phone or tablet camera are about 5 MB), you will probably exceed the maximum message size. In this case, this image resizer app is very helpful, because it helps to avoid exceeding the maximum message size limits associated with most email accounts. Downsize photos before composing the e-mail and then attach much smaller pictures.
Image resizer Features:
Batch processing
Original pictures are not affected
Very good quality of the resized photos
Photos resized several times do not lose quality
Reducing photo size preserves original quality and aspect ratio
Adjust aspect ratio to 2×3, 16×9, or custom
Downsize photo for Instagram, Facebook, Whatsapp, printing
Adjust photo size
Scale image size
Enlarge photo
YouTube banner maker 2048×1152
Resize photo to KB, MB
Having a high definition camera on your phone with thousands of megapixels per inch is great, but if you can't send your pictures to your friends, you might as well throw your phone and charger in the snail mailbox and ship it off to your friend, right? Never again! Our photo resizer will solve your issues and downsize photos! Users love this image resizer app! This is the best image resizer for you.
Step 1: Lunch the Photo & Picture Resizer: Resize, Downsize, Adjust Images application in your device to adjust and resize your photo.
There are four feature option in this application: 
Select photo: resize single photo.
Multiple Photo: resize and rename multiple photo.
CamShot: Capture and resize your capture photo.
Resized Photo: Here all your resize photos.
Step 2: After lunch application click on select photo button to select your photo from your gallery.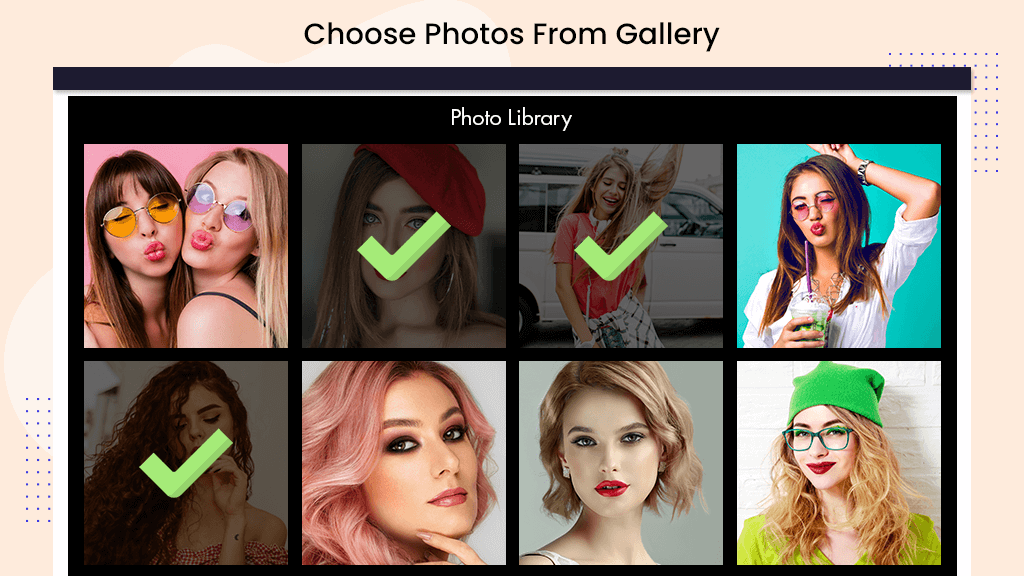 Step 3: If you wish to resize your capture photo click on camshot button to capture your photo and resize photo, there is two different option where you can capture of select your photo or continue photo adjustment.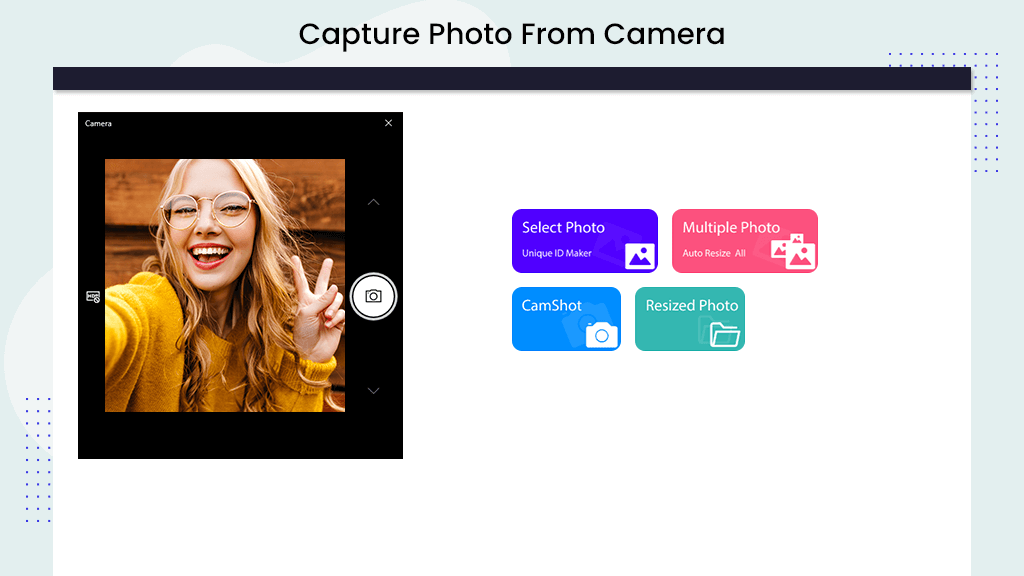 Step 4: After capture or select photo. you have default button active in which you can create your country document size photo.
click on select country button and choose your country from list.
Now Go to select document and  choose your required document like passport and select your required document and photo is resize.
you can download your resize photo if you wish any other size or ratio so use other feature.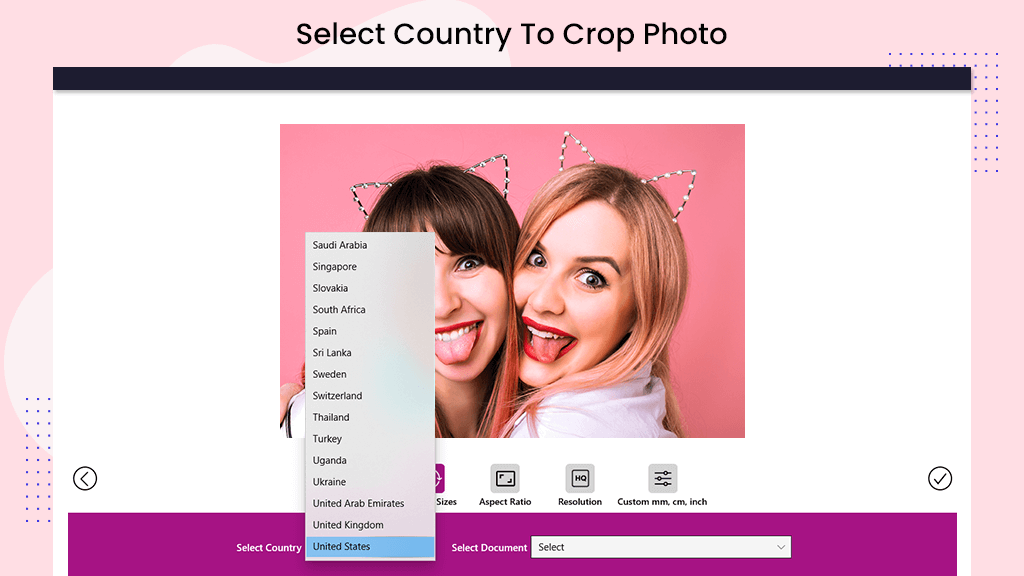 Step 5: Click on Rotate button and choose aspect ratio, there are many social media aspect ratio choose and convert.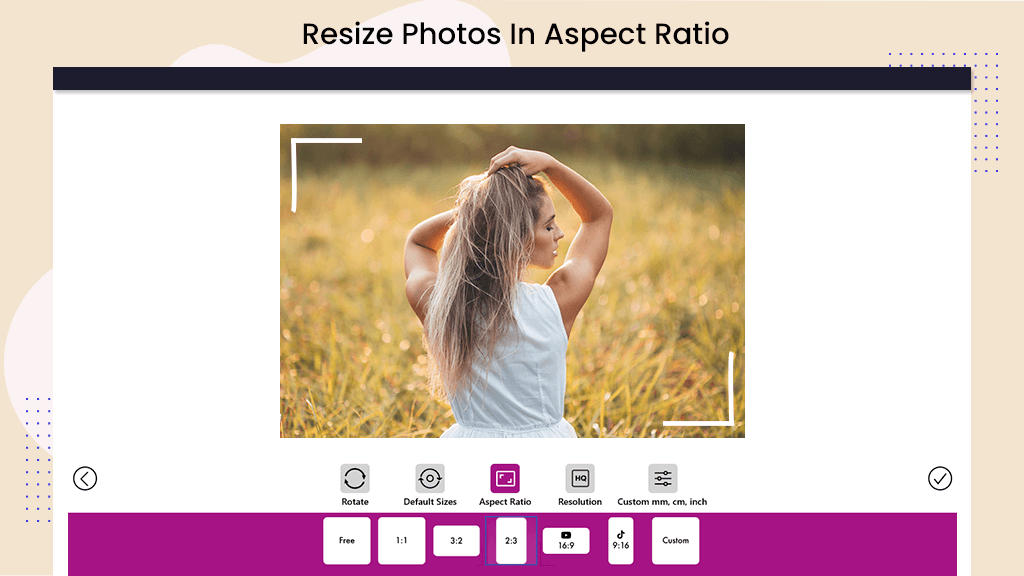 Click on Resolution button to adjust the resolution of your photo. or you can create your new resolution means choose other custom resolution.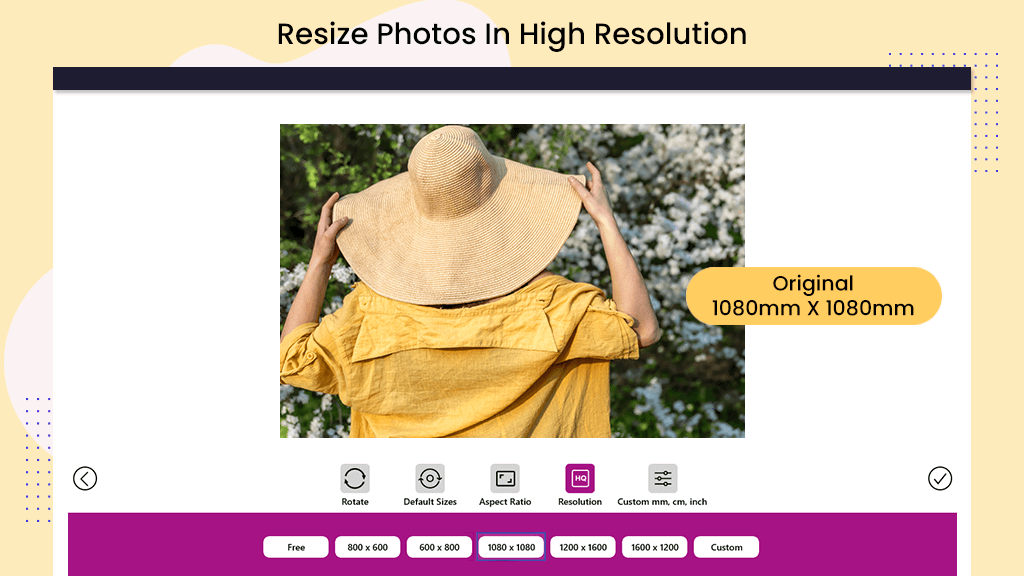 Click on Custom mm, cm, inch. and choose your image custom height and width
or you can also select width and height or choose default DPI and click on apply settings button and save your image.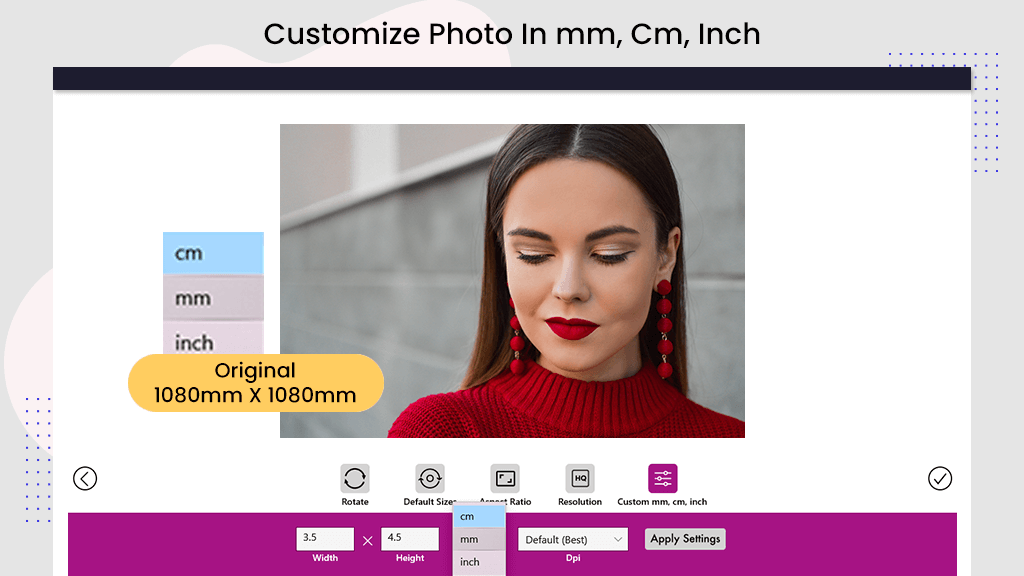 Here you can save your image or rotate and reset your default original image or can choose canvas size or new ratio.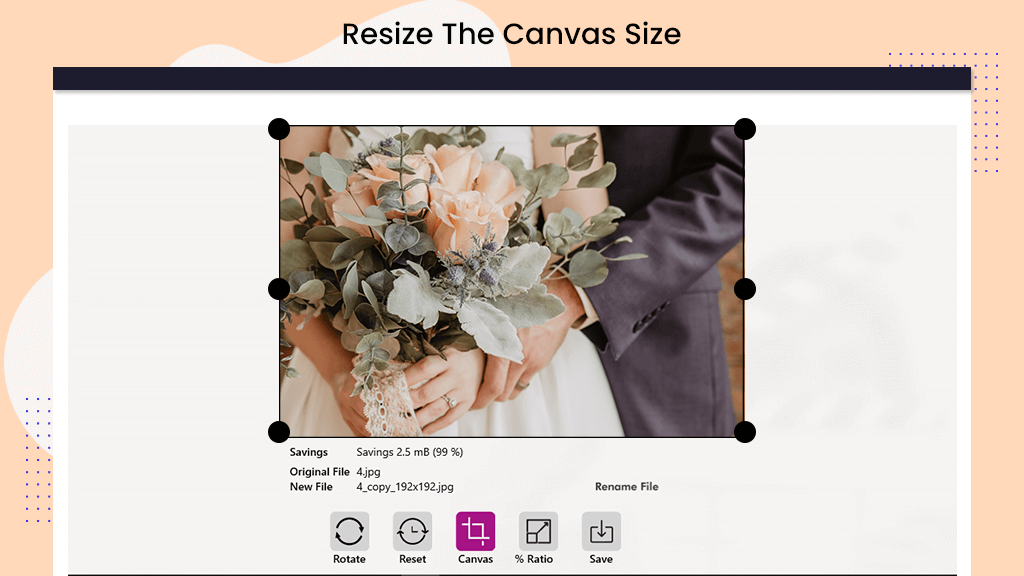 After click on save button you can download or print.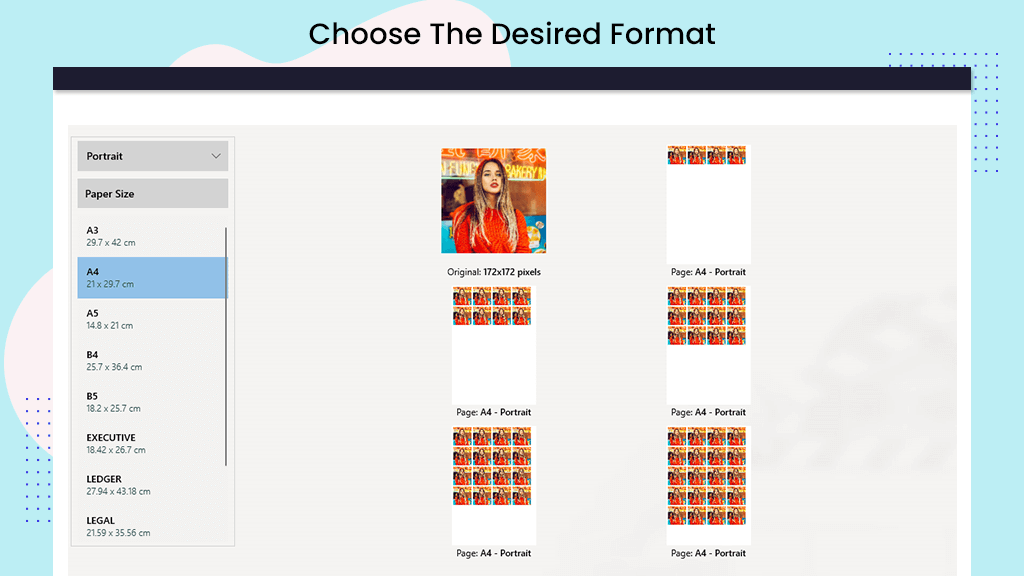 click on select multiple button and choose your multiple image and click on ratio button to choose new ratio of your all images.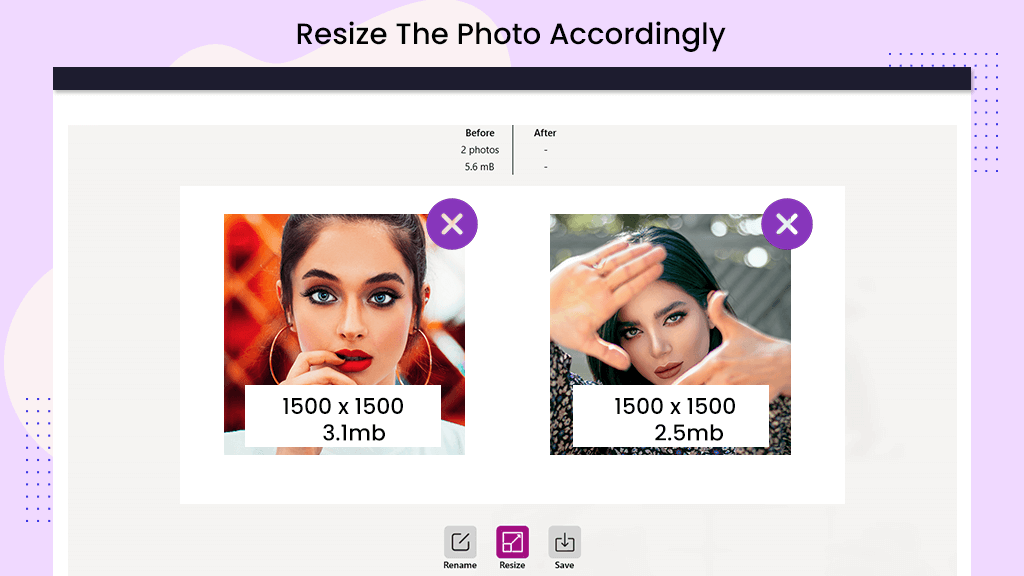 After click on ratio button you can select your ratio in new percentage or width and height and you can select in mm, cm, inch.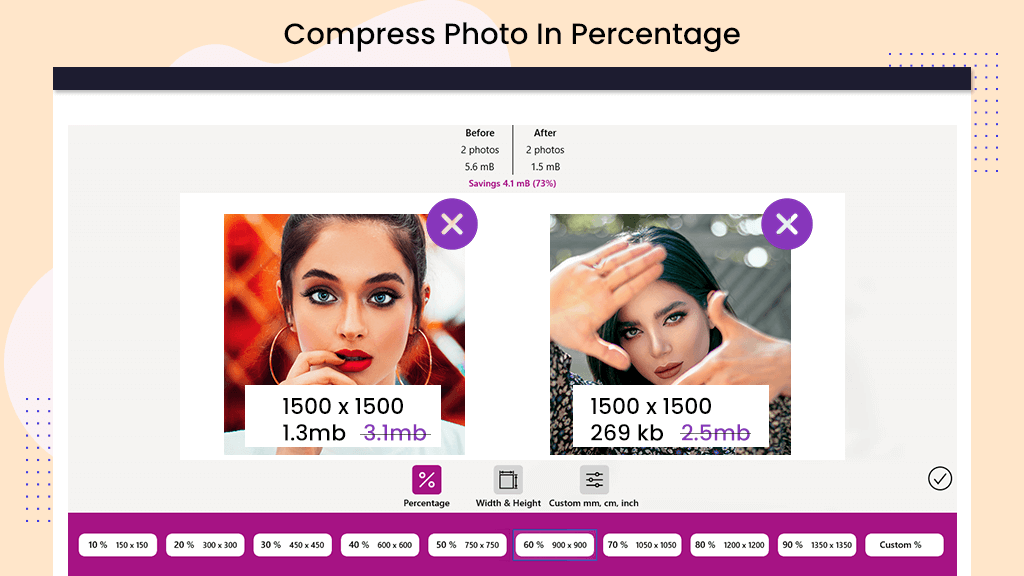 You can rename all image at once by click on filename button and change. or you can download all image at once.